Nowadays, any kind of Internet trading including ticket selling cannot go without the tools that help to track and analyze website visitors. For successful ticket realization, it is essential for event planners to know their audience and to have a clear idea of their logic of action. Services like Google Analytics have been designed exactly for this purpose. They allow analyzing potential customers' behavior, tracking advertising campaigns and making important business decisions. Apart from Google Analytics, our clients often set up Facebook Pixel and other scripts for marketing purposes.
What is a Google Tag Manager and what is it used for?
In simple words, the Google Tag Manager tool helps to manage tracking and marketing with specially-designed services. This is a kind of control panel that allows users to add and operate any other tools. The use of this system gives event planners the freedom of choice when choosing software for work: it allows choosing any desired service, adding it and setting it up in just a couple of minutes.
How to install Google Analytics
The installation of Google Analytics will help us to show Google Tag Manager may be used for ticket selling.
The system includes Custom Templates: the set-up of the Google Tag Manager will be performed with their help. You will also need templates to arrange the automatic data export to Mailchimp mailing service and to set links to the event in various social media.
To create a new template, select Templates in the menu, choose Custom Templates and click on the New button. Enter the Google Tag Manager code in the form: it will appear this way – GTM-XXXXXXX (instead of X you will enter the actual code). In this article, we are not explaining the way you can get a Google Tag Manager code as you can easily find the instructions on the Internet.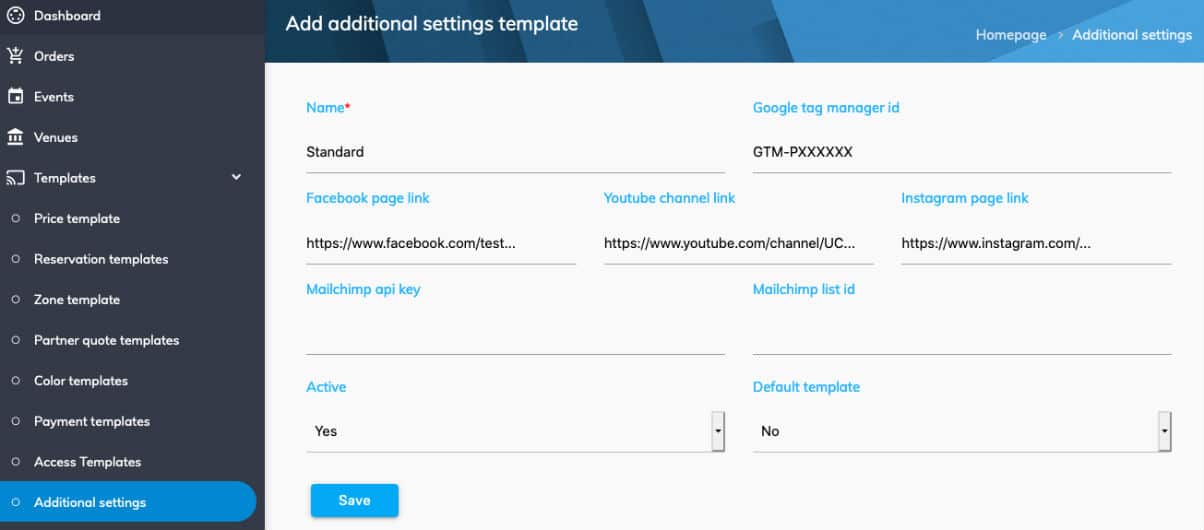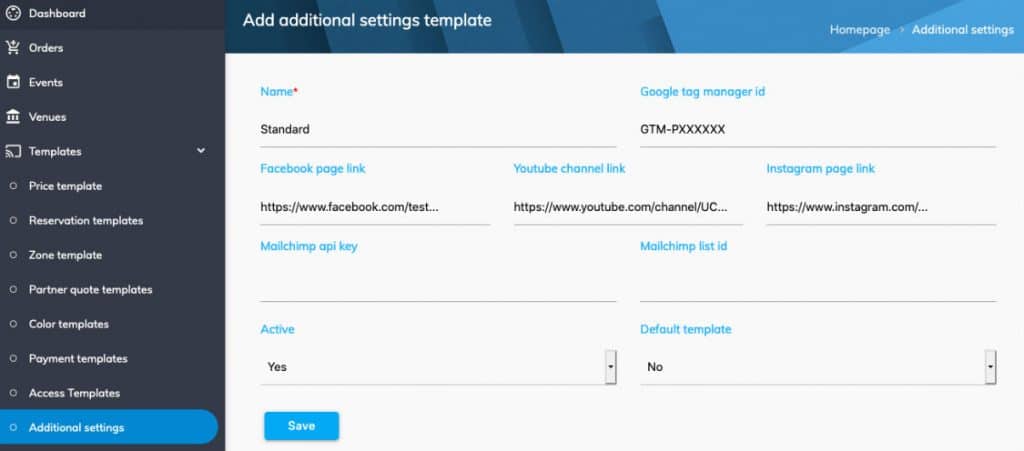 Having saved this template, Google Tag Manager code will appear on every page of the system. If you require another code to be displayed on certain pages, then you should create another template and choose it when adding or editing an event.
To set up the Google Analytics code, you need to get registered in Google Tag Manager and to go through the steps described in the Google article.
In order to make sure that Google Analytics has been correctly installed, you may turn to Tag Assistant – the extension for Google Chrome browser. It helps to control if Google Tag Manager and Google Analytics code are installed on the currently viewed page. In the picture below you will find the successfully set up codes of both systems.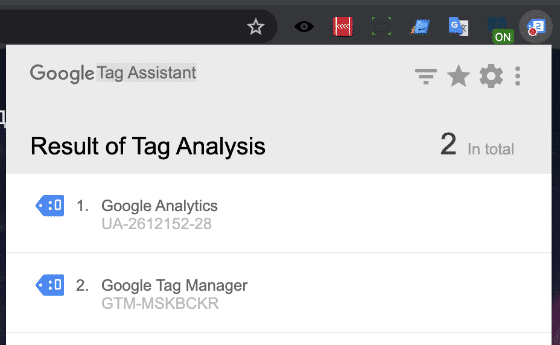 Setting up Facebook Pixel and other tracking scripts
In our ticket selling system, Facebook Pixel installation is also carried out via Google Tag Manager. Check out the article on the Facebook help center to set up Facebook Pixel. Any other systems can also be added with Google Tag Manager: installation guides are available on the relevant systems' websites. Besides, you may find numerous videos describing the set-up of any tracking codes in Google Tag Manager.
Using Google Enhanced ECommerce Tracking for ticket selling via TicketTool
Our booking system allows the producer to use more than just the standard tools of Google Analytics: it provides the extended analytic opportunities that have been adjusted by Google for e-commerce. This tool does not require any settings to be made in our system; it only needs to be switched on in your Google Analytics account, and within 24 hours the detailed information concerning all your transactions will be transferred to your Google Analytics account for analysis. It will allow you to get a better idea about your audience and to attract new clients.