How to create events on Facebook?
Facebook is the most popular social network and a source of high-quality traffic. It allows communication with the target audience and attracts new customers for goods or services. It is not surprising that event companies are active on social networks. In this article, we will describe step by step how to create an event on Facebook and add a link to the ticket page.
Before you start setting up an event on Facebook, you must create an event on the TicketTool platform. Later, a link to this event will be added to the Facebook page. The user will be able to book or buy tickets by clicking on this link.
To create a new event on Facebook, you need to log in and open a news feed. Then, in the upper right corner, click the button with the icon in the form of a "+" symbol and select "Event" from the dropdown menu.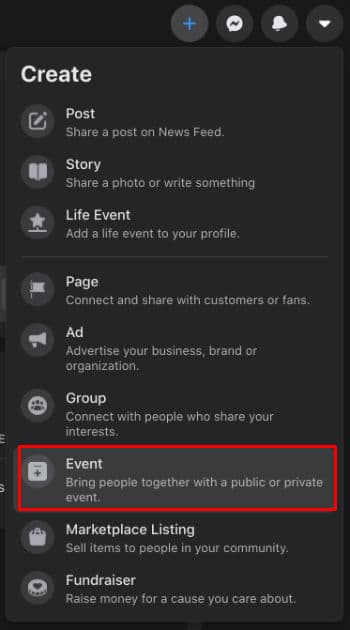 Then, select the type of the event from all available variants presented in the menu leftward. Specify the privacy type of the event. It may be public or private. An obvious fact to take into account – if you plan a public event, select the privacy which allows anyone to see this arrangement (Public Event).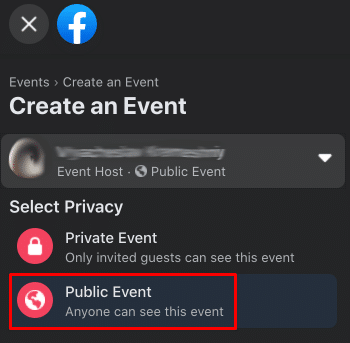 Once you have selected an event type, an online form will become available. Specify there the event location, its name, description, the start/end date and time of your event, and the active ticket link that leads to the sales and booking page. Right after you have completed the form, click the "Create" button and the event will be immediately created.


We want to pay attention to the fact that the form for creating or editing an event on Facebook has a lot of fields. All of them can be displayed simultaneously on the large monitors only. One of the most important fields, namely the one for adding a link to the ticket page, may be hidden on the screen if we speak about, for example, a regular 15-inch laptop. To make this field appear, you need to start scrolling.
After you create an event, you can see how it looks on your computer or pocket screen. To switch between modes (desktop preview and final version), you can use the buttons located in the upper right corner. Look at the following picture to find these two icons.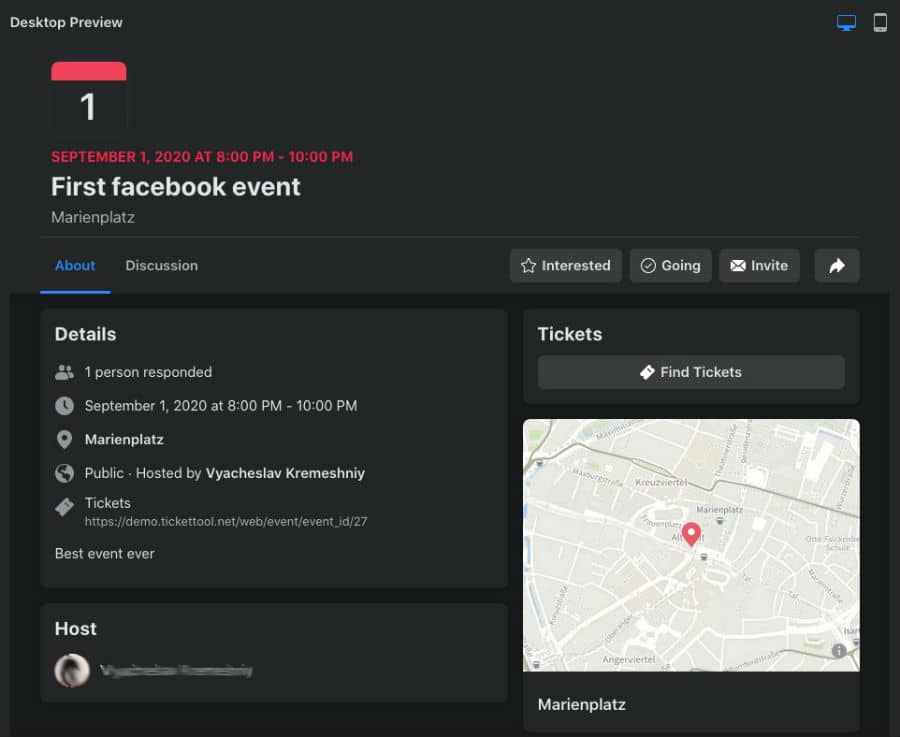 As you can see in the image, the "Find Tickets" button will redirect the user to the ticket page.
How to publish events and invite friends?
To publish an event that you have just created on your Facebook page or to share it with your friends, the administrator should go to the event page and use the appropriate buttons. The "Add to Page" button that is suitable for event publishing is located in the hidden menu that can be opened using the button with the open-stop icon ("…").