How to create seating chart?
Where to start?
To get started with TicketToo.net, you need to add at least one event location to your account. If the hall scheme is not necessary, it is possible to do it without service assistant, specifying the address of the event and prices for tickets. If the scheme is needful, we will develop it absolutely for free. To order a scheme, submit an appropriate support request or simply send us email via the contact form.
What information should be provided?
In order to make the hall scheme, it is necessary to provide us with its image which shows the seats arrangement, the rows and zones of the placement. This picture will be used to create an interactive hall scheme. If you could not provide us with such an image, contact our customer service. We will find a way to help you. But it is worth noting that necessary picture will speed up and facilitate the process by times. An example of a cinema hall scheme with 10 rows in stalls and 3 rows on the balcony can be seen below (Figure 1).
Example of a seating chart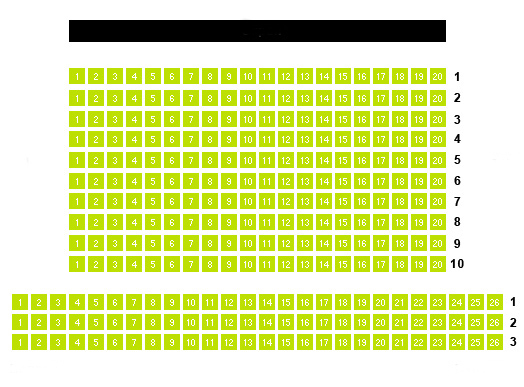 (fig. 1)
Pricing information
In addition to the hall scheme, the event organizer has to provide information on pricing zones in the hall. It means that there are different set of seats/ places/ areas in the hall combined by the cost of their ticket. For example, the most expensive seats could belong to the price zone "VIP"average-priced tickets could be called as "Business" ones, and the cheapest seats will form the separate "Econom" group. The hall zones are meant as the places or areas combined conditionally by their location. For example, Balcony and Orchestra / Stalls.
Time limits for chart development
We will provide you with an actual interactive scheme of the hall within 1-2 working days. The key aspect is to get all necessary information from consumer in time.
How can I check with current list of venues and seating charts?
The list of vanues maps made by our developing team is available on venues map page. If some venue you want is on the list, just notify yout manager of client support that you are willing to use it.