Electronic wallets are relatively new and allow you to store boarding passes, club cards, discount coupons, event tickets, and many other types of permits on your smartphone. On our platform, it is possible to use the two most popular electronic wallets from Apple and Google corporations.
What are the benefits of using tickets for electronic wallets?
The main advantage of electronic wallet tickets is their ease of use. All you need is to click on the link that can be found in a confirmation letter, and the ticket will be saved and ready for use. You don't need to print the ticket and there is less chance that you will forget to bring it to the event. One very important point is that the use of such tickets is more environmentally friendly, like paper, printer ink and electricity are not used in contrast to a regular ticket.
The situations you shouldn't use the ticket for electronic wallets
The only contraindication is that your ticket scanner cannot read the barcodes from the smartphone screen. To check it, you should download a test ticket to your smartphone and try to read the barcodes out with the scanner you use while checking tickets to your events. In case the ticket cannot be scanned, you can use our smartphone app which reads barcodes from smartphone screens without any problems.
How to set up the use of tickets for electronic wallets
To activate this feature, go to the scanning settings page and enable the use of e-wallets. This feature is not active by default.


Two new columns with links for Apple Wallet and Google Pay will appear in the letter with the tickets list.

What do tickets for electronic wallets look like?
These tickets are an electronic document that contains all the information required for verification, in addition to the barcode. To be exact: the name of the event, the start date, the name of the buyer, the price of the ticket, the zone, row, and seat that the buyer paid for.
An example of an Apple wallet ticket: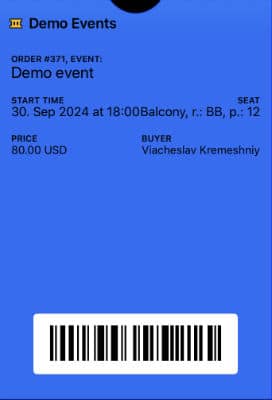 An example of Google Pay ticket:
Does the use of electronic wallets need the installation of any additional applications?
There is no necessity to install any additional applications. The Apple wallet is installed on all iPhone smartphones by default. On the Android platform, the Google Pay app which allows you to pay and store tickets may not be installed by default, but the ticket can be saved without the app.